Google Posts are an exciting new Google feature that now allows most businesses to share news via the local panel on Google search and Google Maps (at present hotels and B&Bs are excluded).
They offer an easy, free, quick way to share offers, news, case studies, testimonials etc directly into the organic search and local map listings via the easy to use Google My Business dashboard.
Why are Google Posts so Exciting?
From a marketing communication perspective if your business is already being found in search results, they can:
provide another opportunity to stand out from the crowd and to build trust and connect with your prospects in a soft touch, non-sales way, especially if you keep your posts relevant and interesting.
provide a free, almost real-time feed into the search results, a great way to channels offers, seasonal messages, testimonials, case studies and news.
make it easier for prospective clients to complete actions on your site by providing a one click path to a specific page on your site. Perfect for driving traffic to a particular page or action – one week at a time.
quite literally expand your 'presence' on the search page – bigger is better right – with Google Posts you increase the size of your listings real estate by nearly a third. Check out our example RAR post below on the right.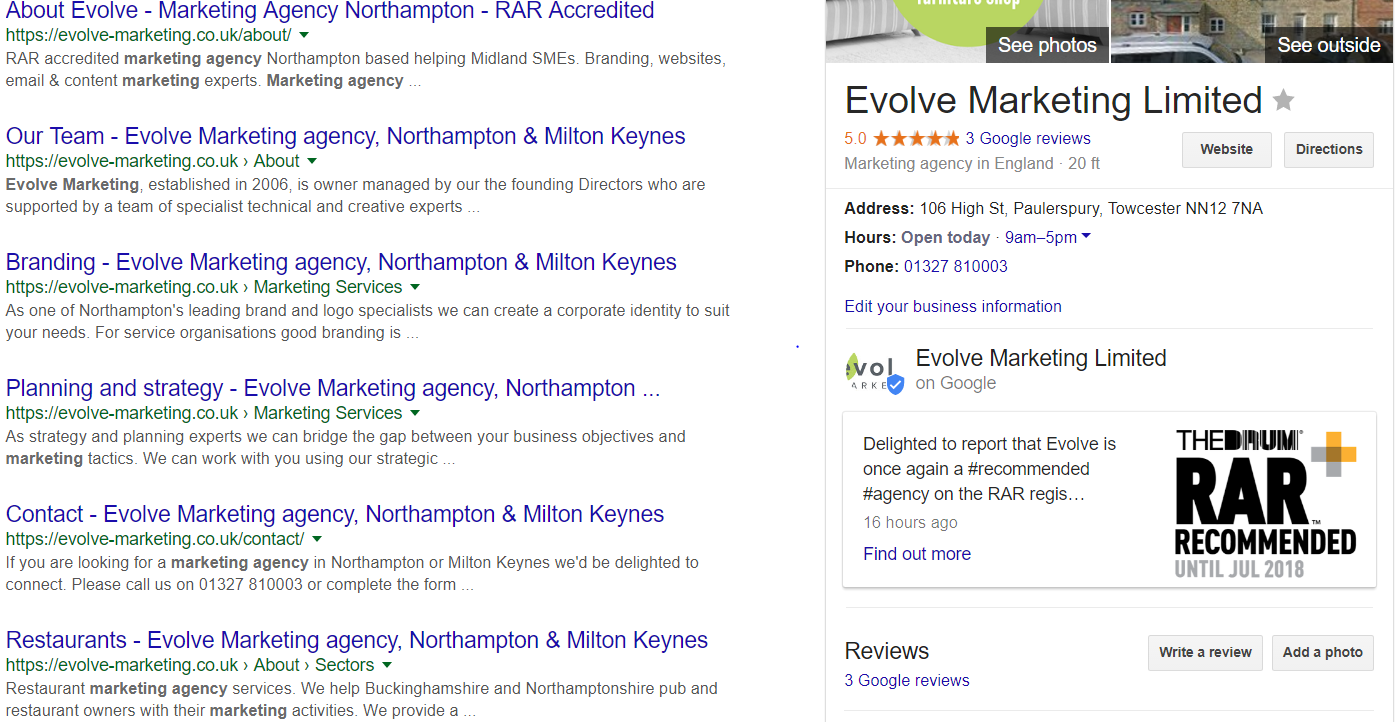 How to Use Google Posts…
It is really straightforward. To post an update go to your Google My Business dashboard. Then go to 'create a post' or 'posts'on the menu. Just click on each field and enter the relevant information. Your post appears straight away in the search results for branded keyword searches. They are shown for a week (events will appear until event date) before they disappear, and you'll get an expiry reminder notice on the sixth day via email.
A few other pointers:
Remember to keep posts concise – you have up to 1,500 characters for the details of your post, but the ideal length is between 150-300 characters. Note that your post copy will truncate after 100 characters so make sure these characters contain the main message.
The recommended photo size is 720 x 720 pixels (no animated gifs or video allowed).
Various clickable call to actions button and a date range (for events) are also available to use. You can use URL tagging/UTM codes so you can work out how users engage with your website after they click on a CTA on your post. Or if relevant you can use voucher codes to track engagement.
Fyi the feed works like a carousel so if you have more than one post, the most recent will show up first and the older posts will show in the carousel format.
What Next?
Get uploading and if you need help keeping your Google Posts up to date then call the content marketing experts at Evolve Marketing on 01327 810003.