It was great to get fresh insights and learnings from BrightonSEO last week. A key take-away for us was the reaffirmation that search is still at the heart of the purchase journey with the emphasis now more than ever on the user in terms of relevancy, speed and device.
This user focus resonated with us at a strategic marketing level, and we found the discussions around speed and website load times particularly useful. As this is an issue we have been grappling with as we try to get to grips with the changing #mobilefirst search landscape.
Phew… it's Not Just Us
And it is reassuring to know that we aren't the only ones struggling with site loading speed across the UK. This 2018 research from Google shows that on average UK sites are still fairly slow with none of the sectors hitting the Google 3 second best practice load time recommendation.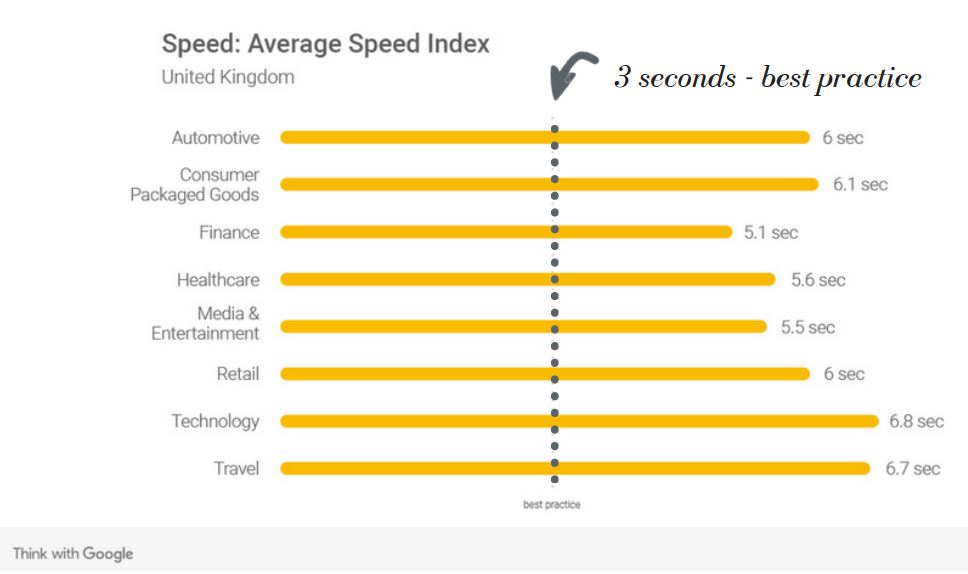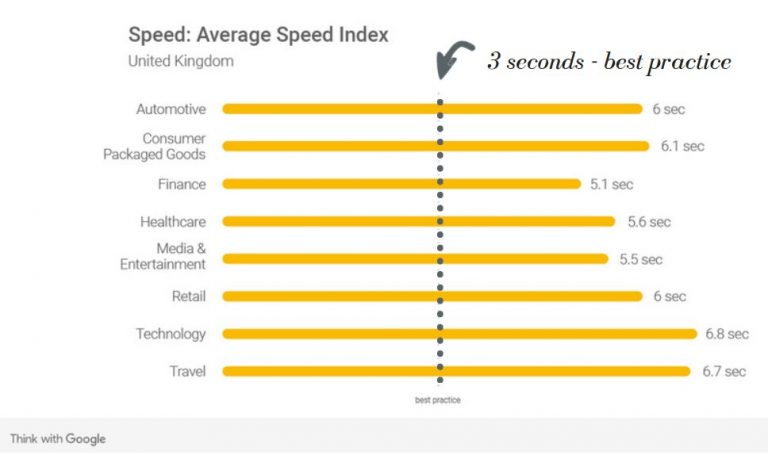 The Finance and Media sectors, at 5.1 and 5.5 seconds respectively, are the closest to best practice but still have a way to go. And ironically the Technology lags at 6.8 seconds.
Speed Perception…
This is a useful idea to help reduce the bounce rate and enhance the user experience above the fold. It advocates that the actual load-time isn't as important as what a user perceives the load time to be.  The priority is to give a great first impression.
Whether you adopt a progressive enhancement versus a graceful degradation approach, the important thing is that the elements (text, form, video or image) that brought the user to the page in the first instance are visible above the fold and thus give a good experience. Remembering of cause that above-the-fold may look very different on different devices, so research is needed.
Image Optimisation…
A key area for improving speed continues to be image optimisation. The painfully tricky act of balancing form and function with speed savings is a real struggle. And as a brand guardian having to sacrifice online image crispness to speed still makes me slightly queasy.
There were many examples and suggestions to enhance speed but the key one that we'll be investigating further are newer image file formats, in particular, WebP and Progressive Jpegs.
Take the Test…
There are a lot of different site speed tests available, with a few new ones being touted on Friday, but our current favourite is Lighthouse from Google. It is an open-source, automated tool for improving the quality of web pages and provides a practical, digestible report with recommendations based on the following areas:
         Web Performance (Site Speed)
         Progressive Web App (PWA)
         Accessibility
         Best Practices
         Search Engine Optimisation (SEO)
In Conclusion
Another worthwhile day out at BrightonSEO! Given that SEO is a slow, granular, fairly silo'ed activity in the marketing mix with blurry 'rules' and a slowly shifting landscape (unless it's 'de-indexing week' at Google 😊) the networking and learning opportunity that this conference provides is a welcome boon.
If you would like to discuss any of the points raised in this article do call me on 0132 810003 or contact us.